Benefits of Collagen for Men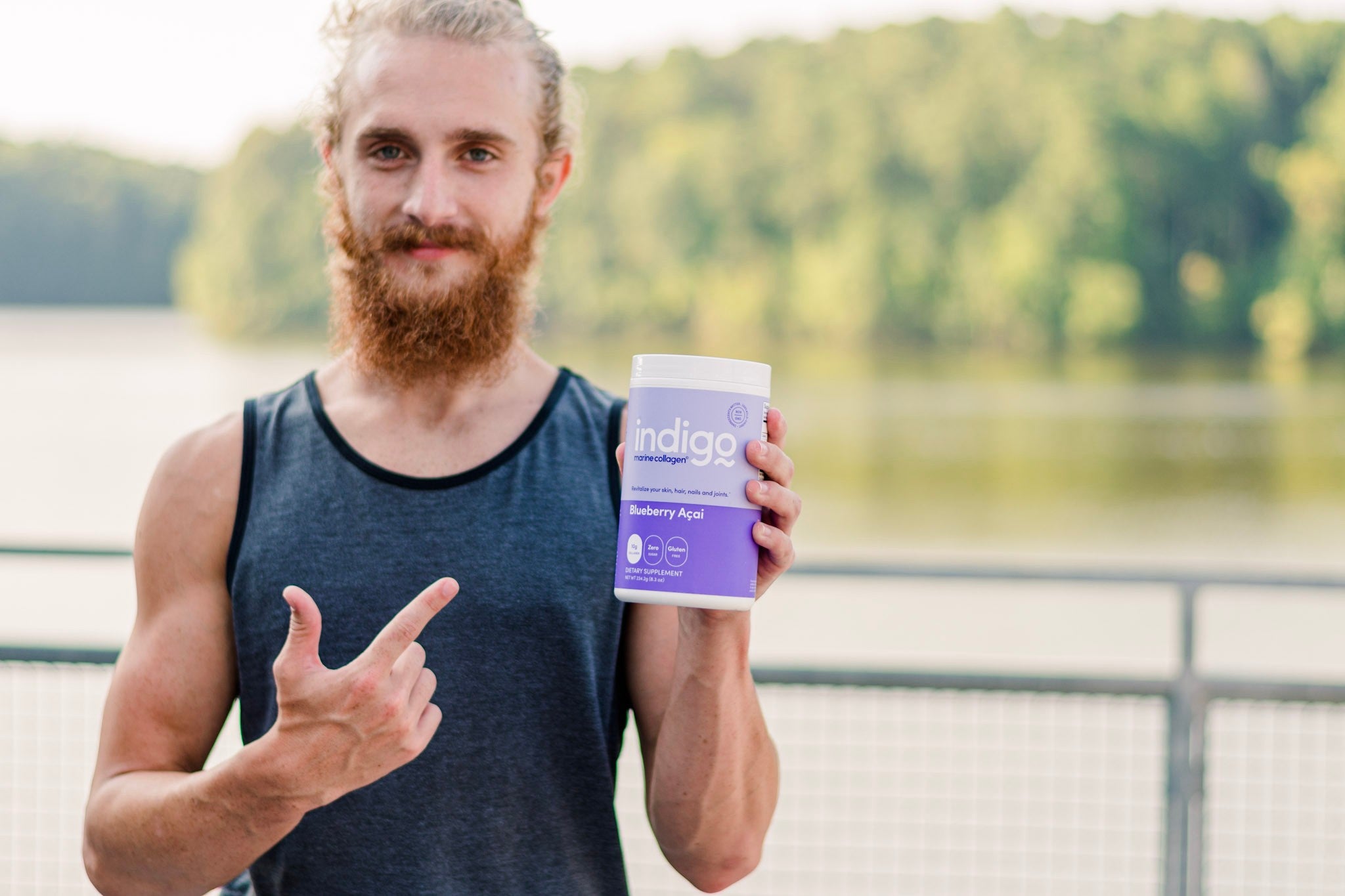 Here at Indigo Collagen, we firmly believe that collagen is for every body! No matter who you are or what your activity level is in life, collagen can help you live a happy, healthy, and productive life. We want to make sure that men also know that they can benefit from collagen in their lives in both physical ways like skin, nail, and hair health, but also in important internal ways, too. While this may be geared towards making men more aware, these are all exceptional benefits for women too that may not be known about. So buckle up and learn a new thing or two about marine collagen!
Collagen Helps Your Bones
We wrote in length about the importance of keeping your bones healthy, but this is just one of the many ways that collagen can help you on the inside. How collagen affects your bones is that our bones are made primarily of collagen. If your collagen level depletes, which it does as we all get older, we lose bone density and become more susceptible to broken bones. Using some of our marine collagen regularly can help replenish that bone density and keep you healthier and protected in the future. 
[PURE]
Collagen Helps Your Joints
Yet another internal way that collagen can help you on the inside is through boosting joint health. There are massive benefits of collagen for all athletes, this is a great way to give yourself an extra bit of support before or after a workout! Indigo Collagen has four essential types of collagen, which is not the norm. Usually, we need to consume different sources of collagen to receive these four types of collagen, but with Indigo Collagen you get them all from one source! Type II collagen is found in the cartilage of our joints and, as we age, the amount of this collagen in our bodies decreases as well. Utilizing collagen is a great way to make sure you're keeping your joints healthy. 
[BLUEBERRY]
Keeping Active? Collagen Can Help!
In our earlier blog post about the benefits of collagen for athletes, we noted that joint health isn't the only thing that can help athletes. For starters, our flavored marine collagen is a great option to receive additional electrolytes while keeping you active and at peak performance. Indigo Collagen also contains arginine and glycine, two key amino acid building blocks for creatine, which, as those who work out regularly may know, is a vital supplement for building muscle and strength. With nine grams of protein in each serving, this is an excellent option for your new favorite beverage while you work out!
[DRAGONFRUIT]
Great-Tasting Options of Collagen
If you want to jilt sports drinks that may be high in sugar and low in effect, our marine collagen comes not just in our 'Pure' option but also in three other great tasting flavors. Some people may see collagen and be unsure, or unwilling, to drink it dissolved in some water. However, with raspberry lime, blueberry acai, or dragon fruit as options for you to select from, you cannot go wrong with having this right alongside you as you conquer your next workout.
[RASPBERRY]
As we said, collagen is something that we can all benefit from. No matter who you are, there is a collagen benefit that is sure to be the right one for you. Try some today and see why Indigo Collagen is the leader in collagen!