White Chocolate Lemon Sugar Cookies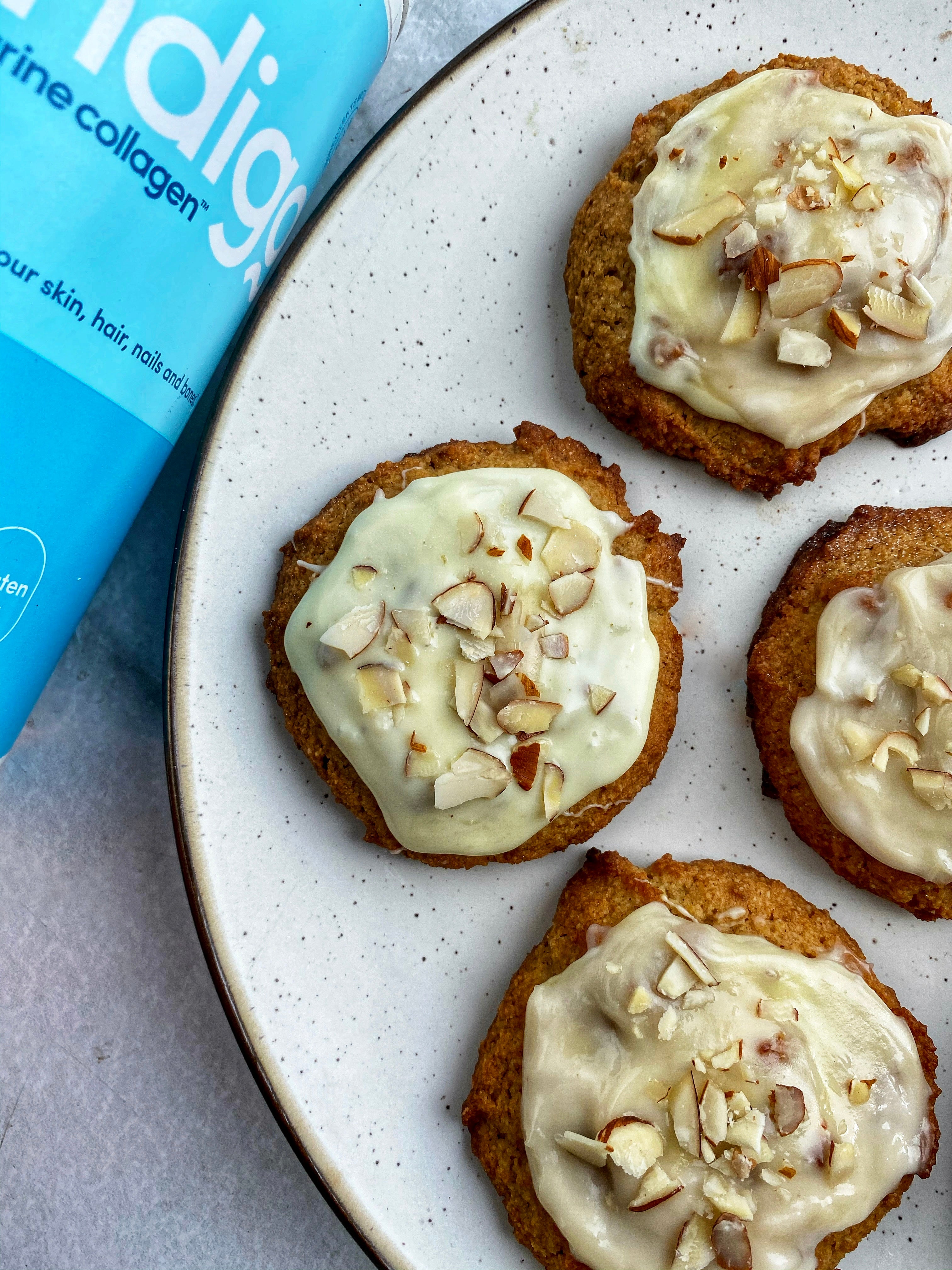 These cookies not only come together very quickly, but are bursting with flavor, have a pretty minimal ingredient list, and are made with whole-food ingredients!
They have a soft center, slightly crunchy outside, and are topped with the easiest frosting – melted white chocolate and slivered almonds. The combination of lemon, almond, and white chocolate is a flavor explosion that are sure to be a crowd pleaser!
Some Benefits of Collagen Include:
- Thicker nails
- Stronger bones
- Fuller hair
- Healthier skin 
Indigo Marine Collagen is set apart by the quality and sustainability of our product. Our collagen is fished in the wild, processed in our own facility, and packaged by our team, allowing us to ensure strict quality controls. 
Ingredients:
- 1 cup + 2 tbsp almond flour
- ¼ cup tapioca flour
- 2 scoops Indigo Marine Collagen
- 3 tbsp maple syrup
- ½ tbsp vanilla extract
- ¼ cup coconut sugar
- 1 tsp baking powder
½ tsp sea salt
- 2-3 tbsp lemon juice + zest from ½ lemon (or 1 ½ tsp lemon extract)
Topping:
- 1 cup white chocolate chips
- Slivered almonds, optional
Instructions:
- Preheat oven to 325F.
- Combine all cookie ingredients until the dough forms. Roll into balls and place on a lined cookie sheet. Gently flatten them down, slightly, using the palm of your hand.
- Bake for 12 minutes, or until golden around the edges. Let cool.
- Melt the white chocolate and drizzle or frost each cookie. Top with the almond slivers.
- Store in an airtight container!