Snickerdoodle Cheesecake Cookie Sandwiches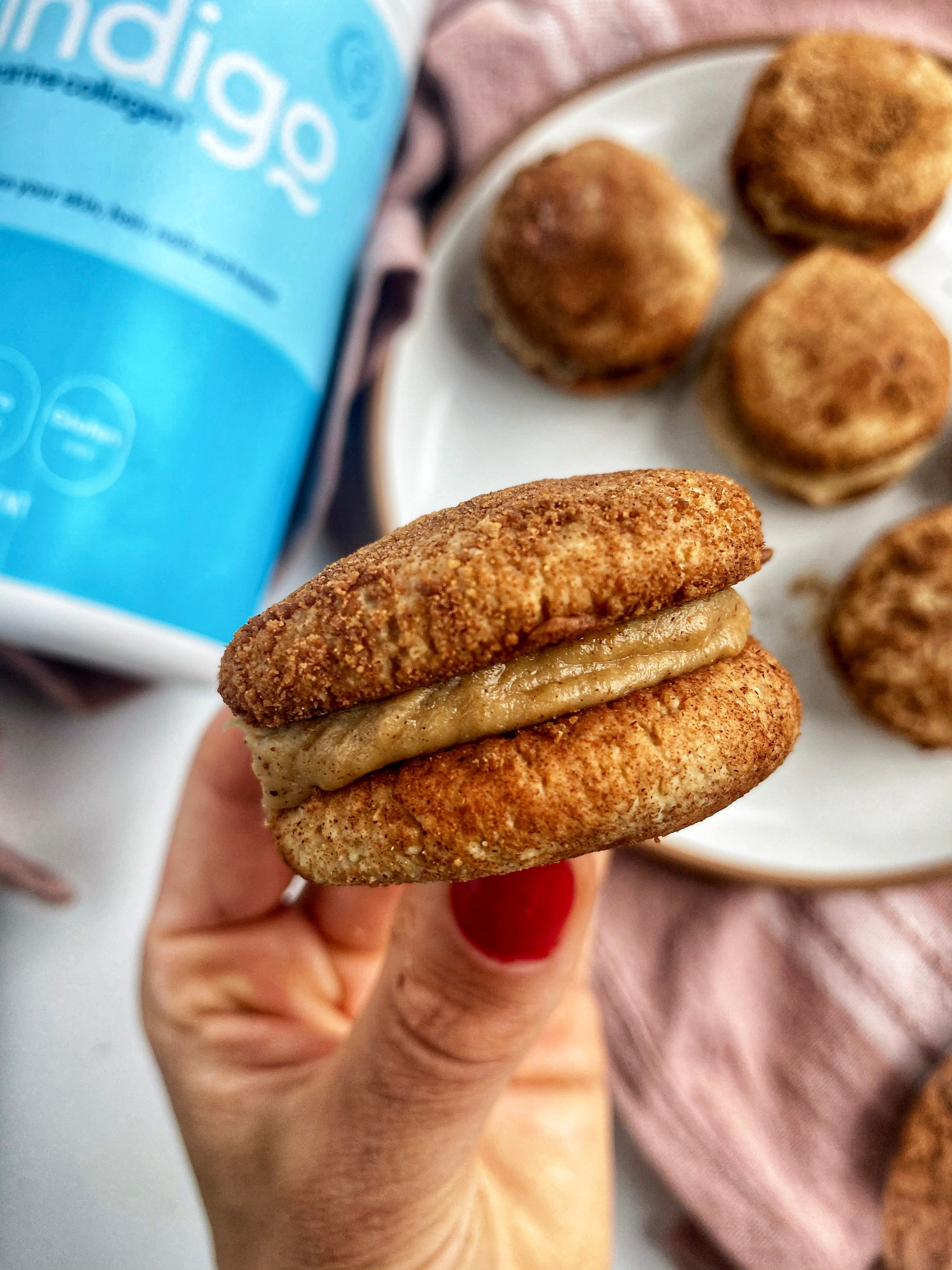 These cookie sandwiches couldn't be more fun! They are full of cinnamon, spice, and COLLAGEN! Indigo Marine Collagen is such a nutrient dense addition to the line-up of ingredients! It is sourced from the North Atlantic Ocean and has a significantly lower impact on the environment. So not only does your body feel good consuming it, but your mind too! 
Ingredients:
Cookies:
- 1 cup almond flour
- 2 scoops indigo Marine Collagen
- 1/3 cup tapioca or arrowroot starch/Flour
- 2 tbsp maple syrup
- 1/3 cup vegan butter, ghee, or oil
- ¼ tsp baking soda
- 1 tsp vanilla
- Pinch of Sea Salt
- 1 ½ tsp cinnamon
Filling:
- 1/3 cup Cream cheese of choice
- 3 tbsp almond butter
- 3 tbsp maple syrup
- ½ tsp vanilla
- ¼ tsp cinnamon
- Pinch of Sea salt
Instructions:
1. Preheat oven to 325F and line a baking sheet with parchment paper.
2. Combine all of the cookie ingredients together, until your dough forms.
3. Drop the dough, by rounded spoonfuls, onto a parchment lined baking tray. Gently flatten the cookies using your palm.
4. Bake for 12-14 mins, or until lightly golden around the edges. Oven times may vary! Remove from the oven and allow to cool completely.
5. To make the filling, mix everything together until smooth. Stuff the cookies and place in the fridge until ready to eat! Enjoy!