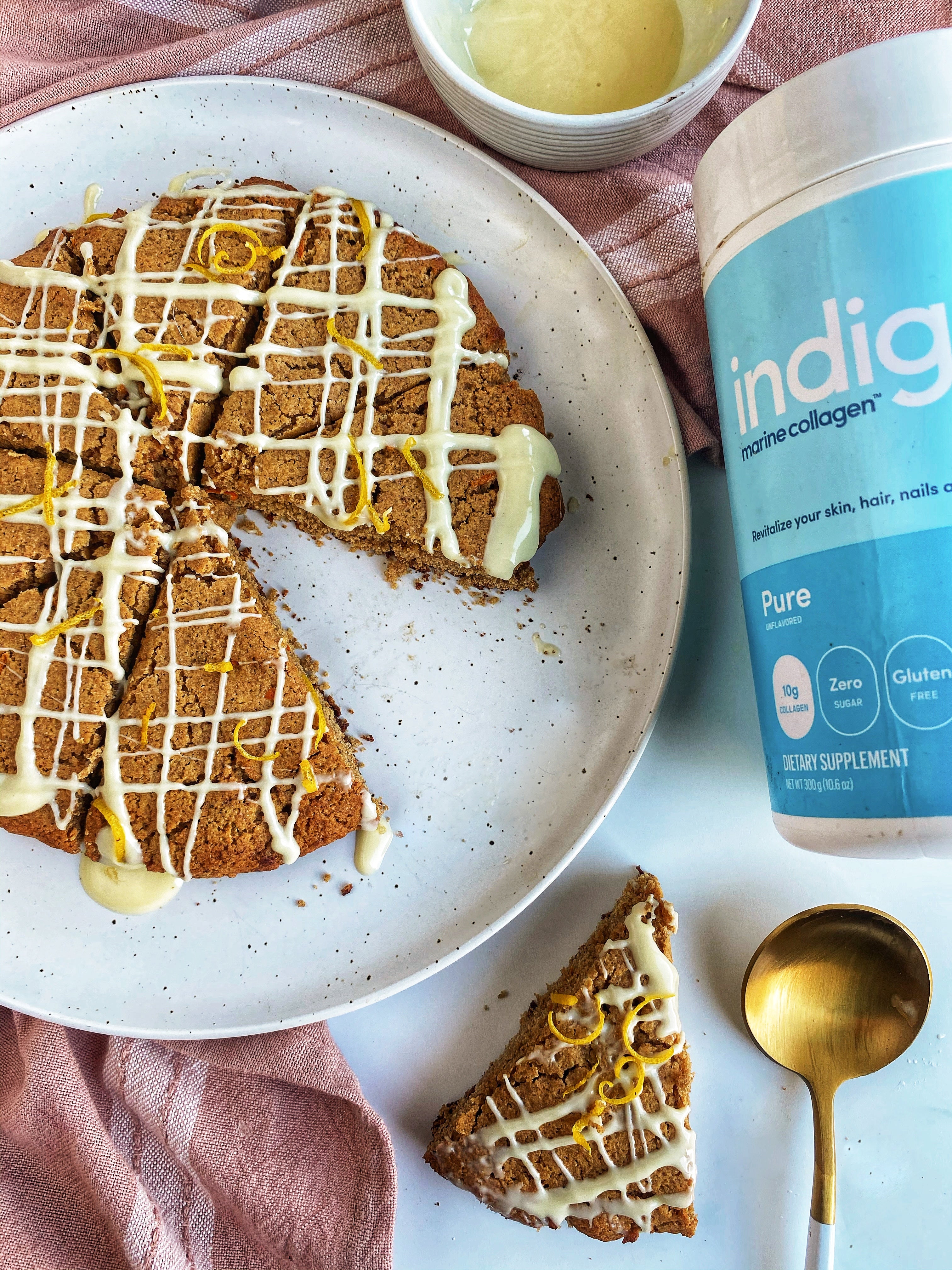 These scones are so fun for summer! Full of light and refreshing flavors! And, in my opinion, nothing screams nicer weather than a lemon treat! Scones can seem intimidating, but they are such a nice thing to have on hand when you want something to pair with your coffee or tea, or when you want something a just a tad sweet throughout the day! The glaze on these is the best touch, but even a drizzle of white chocolate pairs perfectly with the lemon!
We can't forget that these are such a tasty way to get in a little boost of collagen, thanks to the addition of Indigo Marine Collagen! Collagen can help support hair, skin, and nail health too – so eating to support the beauty gains never tasted so good! Enjoy!
Ingredients:
- 1 2/3 cups almond flour
- 2 tbsp tapioca flour
- 2 Scoops Indigo Marine Collagen
- 1 flax egg (1 tbsp ground flax w/ 3 tbsp water)
- 2 tsp baking powder
- 1/4 cup melted coconut oil
- Zest & juice from 1/2 lemon
- 3 tbsp maple syrup
- 1 1/2 tsp vanilla
- Pinch of sea salt
Glaze:
- 1/4 cup Monkfruit powdered sugar or regular
- 1-2 tbsp lemon juice
Instructions:
1. Preheat oven to 350F.
2. Combine all the dry ingredients. In a separate bowl, whisk together all of the wet.
3. Mix the dry into the wet until dough forms. Roll the dough into a ball. Flatten the ball into a disc, about 1in thick. Cut into 8 triangles.
5. Spread the triangles out on a lined baking dish & bake for 14-16 mins, until done. Let cool.
6. To make the glaze, combine the sugar and juice until you reach a glaze constancy. Drizzle over the top!