Indigo Marine Collagen Peptides: What's the Difference?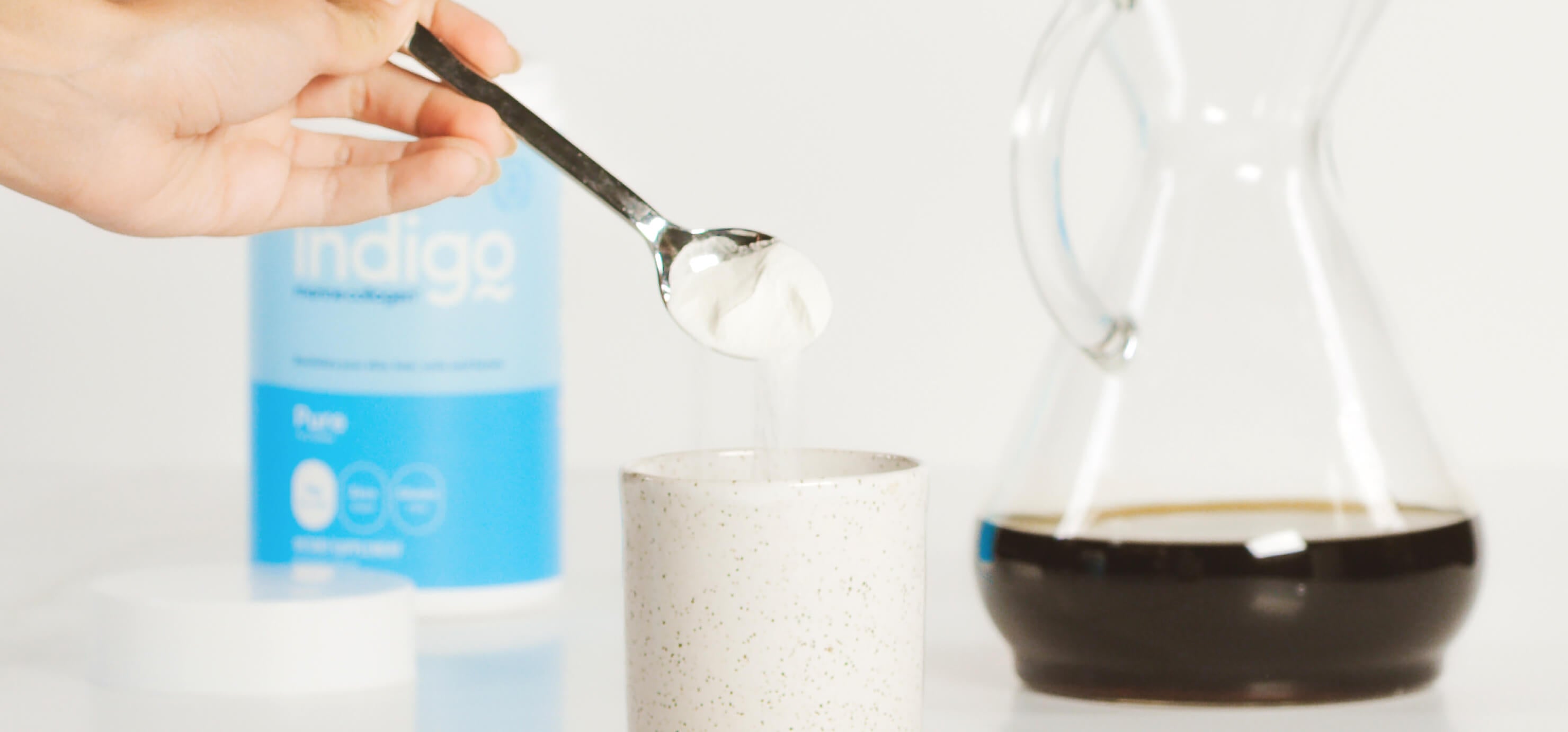 Are you currently taking a collagen supplement? If so, do you know the differences between the types of collagens on the marketplace today? Not all collagen is created equal, especially when considering how that collagen is actively sourced. When choosing the collagen supplement that works best for you, you should be armed with the knowledge behind both bovine and marine collagen peptides. This information will allow you to make the best decision for your dietary needs and personal budget. Here's what you should know:  
Why Marine Collagen? 
Marine collagen is the most bioavailable collagen because it is digested faster and easier than other types of collagen. It is also the cleanest collagen type available – specifically if the collagen is harvested from wild-caught fish, a crucial distinction. Marine collagen also has collagens type I, II, III and IV.  
Marine collagen is sourced from fish skins, and many brands on the shelves you see today are created from farm-raised fish, which, unfortunately, is terrible for the environment. What makes farming fish so bad for the planet? Firstly, fish farms create an environment where fish are crowded together, resulting in a lot of waste. This waste needs to be managed with various chemicals that pollute the surrounding waters and create a hazardous environment for the water and wildlife. Secondly, fish farms alter the organic matter in the sediment, which can change oxygen consumption and cause too much plant growth, causing animals to die due to lack of oxygen (Mancuso, 2015).  
Indigo Marine Collagen is sourced from wild-caught white fish from the North Atlantic. As a result, our marine collagen peptides have less impact on the environment and are much less likely to be exposed to the chemicals and imbalances of farm-raised fish. This is because the fish are in their natural habitat when they are sourced.  
If sustainability practices and quality are essential to you, we recommend doing as much research as possible to ensure you're getting the most bang for your buck. If it sounds fishy (see what we did there!), it probably is.  
[PURE]
Bovine vs. Marine Collagen 
If you're currently taking a collagen supplement and are unsure of the type of collagen you're consuming, it's most likely bovine collagen. So, what is bovine collagen, and why is it different from marine collagen? Bovine collagen is the most popular type of collagen on the market, and it is sourced from cowhides. However, because cowhides are more abundant and cheaper to produce, the process harms the environment.  
Bovine collagen is relatively inexpensive compared to marine collagen, as it only carries collagen types I & II. Although it may be better for those will shellfish allergies, it is not as clean as sustainably-sourced marine collagen, nor is it as effective. Not to mention, livestock is responsible for 14.5 percent of global greenhouse gases, with the production of bovine collagen being a significant contributor to that.  
This is why wild marine collagen is the superior product, as it is sourced from sustainably caught white fish from the clean waters off the coast of Nova Scotia. These wild-caught fish are not treated with drugs or hormones and produce much fewer greenhouse gases.  
The Indigo Difference
Indigo is inspired by real people and powered by real nature. We at Indigo look at beauty from a whole new perspective. From inner wellness to outer confidence, our premium marine collagen is a simple way to help diminish the effects of aging.  
Unlike other sources of collagen, like cows, pigs, and chickens, our wild-caught marine collagen is protected from direct exposure to antibiotics and hormones. In addition, the materials we use are fish skins that would typically be thrown away, creating a complete cycle of sustainability. Also, our canisters are made from 100% recyclable plastics, specifically HDPE plastic, which is the easiest to recycle.  
Indigo Marine Collagen also has Collagen Types I, II, III, and IV (not just types I & II), allowing our customers to get the most benefits for skin, hair, nails, and joints.  
Try our flavored collagen with a cup of cool water, or try our unflavored collagen with a cup of your favorite coffee.  
We not only want to change the way the industry sources marine collagen but also who uses it and why. Indigo Collagen is better for YOU and better for the planet.  
[RASPBERRY]
References 
Manusco, M. (2015, July 6). Effects of Fish Farming on Marine Environment. Journal of Fisheries Sciences. Fisheriessciences.com. Retrieved from https://www.fisheriessciences.com/fisheries-aqua/effects-of-fish-farming-on-marine-environment.php?aid=6896