Collagen White Chocolate Blueberry Cups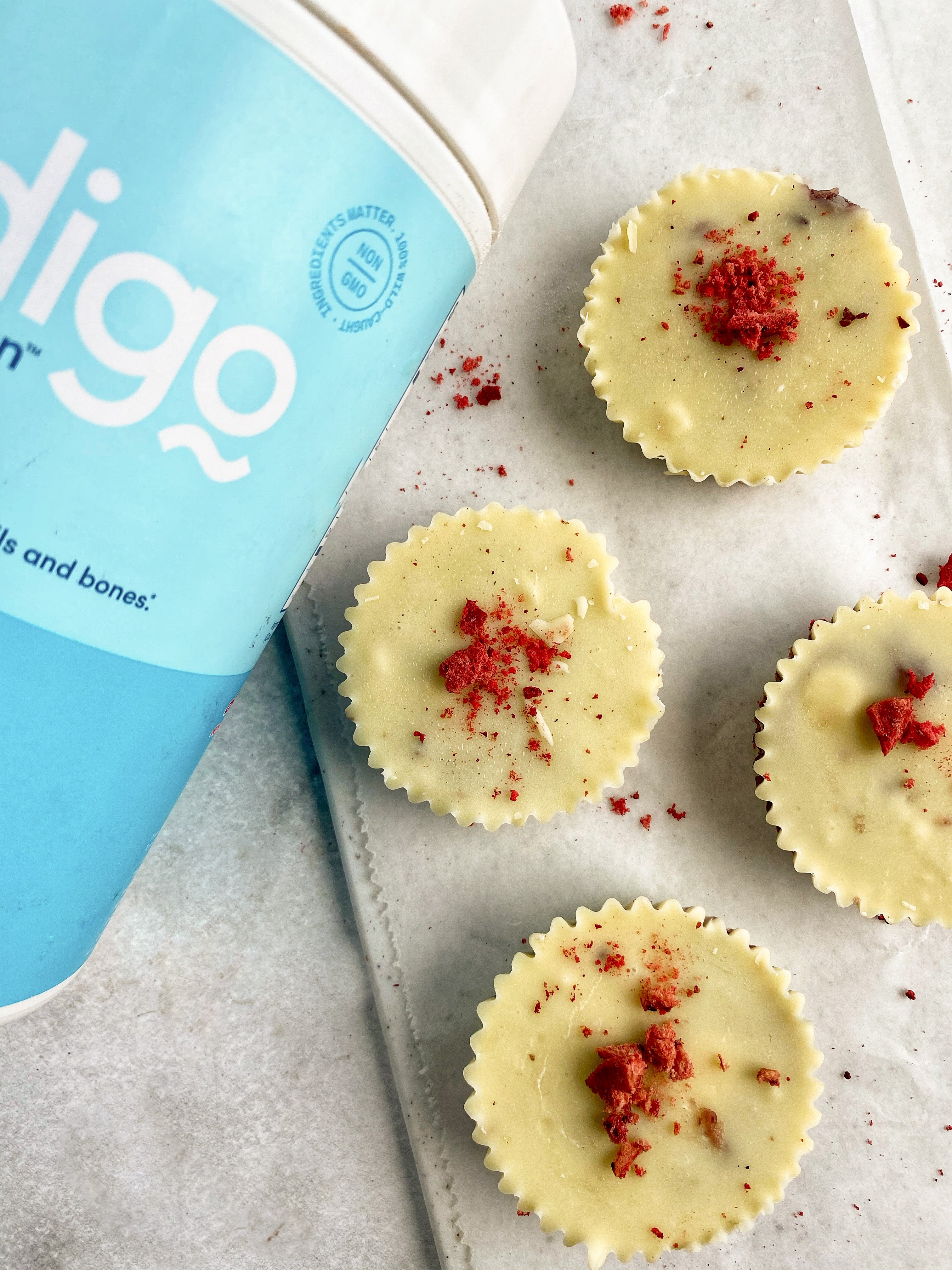 These white chocolate blueberry cups are one of my favorite recipes to prep to have throughout the week! They are super easy, come together very quickly, and keep in the freezer for months (if you can get them to last that long!) They are higher in protein, can be made refined-sugar free depending on the chocolate you use, and are sure to curb a sweet tooth! They are versatile as well, so you can feel free to swap in your favorite jelly! Enjoy!
Some Benefits of Collagen Include:
- Thicker nails
- Stronger bones
- Fuller hair
- Healthier skin 
Indigo Marine Collagen is set apart by the quality and sustainability of our product. Our collagen is fished in the wild, processed in our own facility, and packaged by our team, allowing us to ensure strict quality controls. 
 Ingredients:
- 1 ½ cups white chocolate of choice
- 1/2 cup unsweetened jelly/Jam (Homemade or store bought)
- 1-2 scoops Indigo Marine collagen
- 1-2 tbsp Coconut butter (can sub macadamia butter, cashew butter, or other neutral flavored butter)
- 1-2 tbsp maple syrup, as needed
 Instructions:
- Line a cupcake tin with liners and set aside.
- In a bowl, melt your white chocolate until completely smooth. If your white chocolate is overly thick, you can thin it a bit with a tbsp or two of melted coconut oil. Add a little white chocolate to each cup, covering the bottom. Place in the freezer for a few minutes to harden.
- While you're waiting, make the filling by combining the jelly, collagen, and butter until completely smooth. At this point, you can taste it and adjust as needed. To make the filling more solid, add more butter, to keep the filling pretty gooey, stick to 1 tbsp.
- Add a little of the filling to the bottom of each cup.
- Using the remaining melted white chocolate, cover the filling layer entirely.
- Place back in the freezer to set!