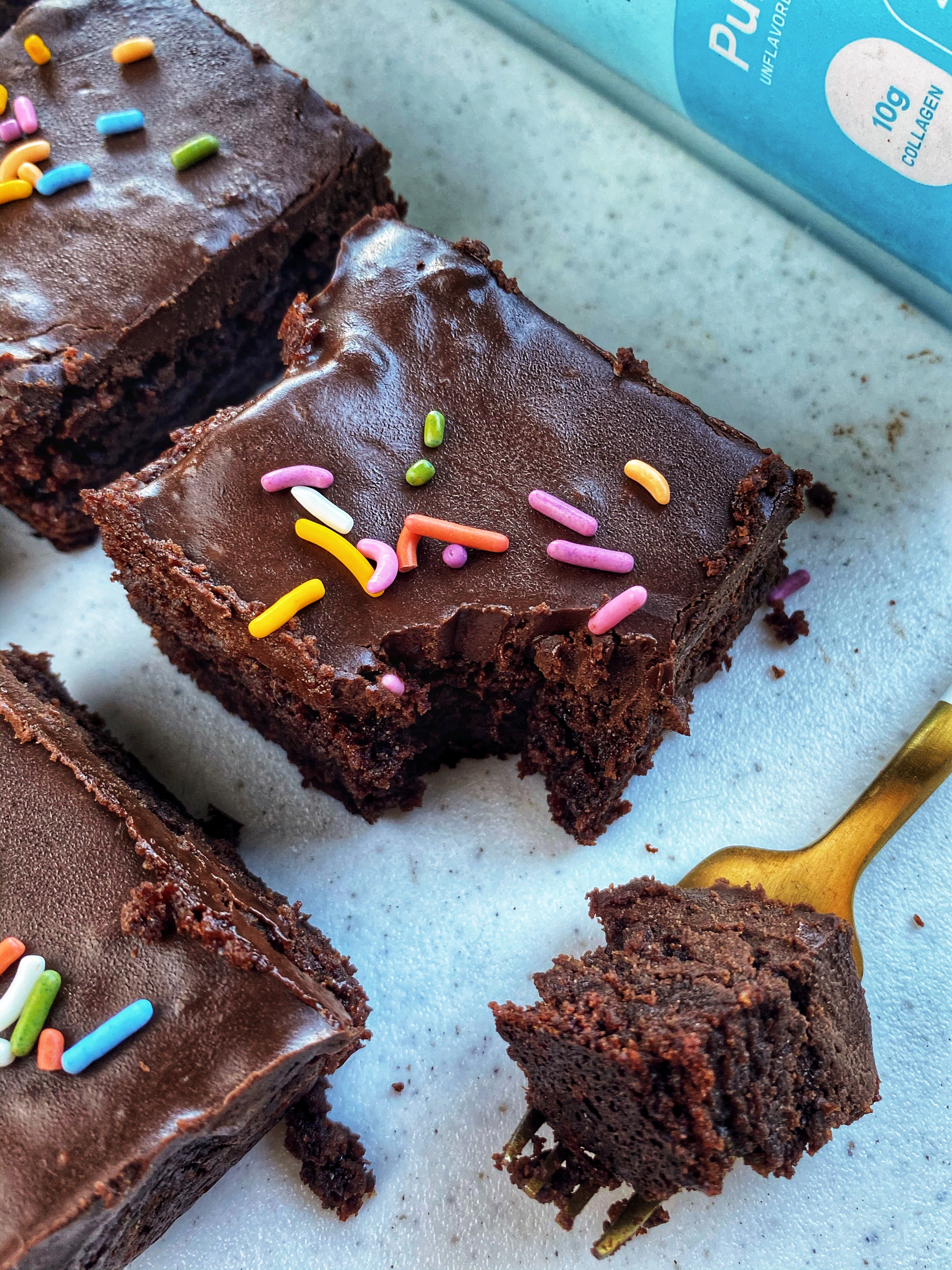 Nothing brings me back to my childhood more than a good ol' cosmic brownie. I don't know if it's the fudge factor or the sprinkles, but they are just irresistible. Sneak a few scoops of Indigo Marine Collagen in there, and you've got a super dense, fudgy brownie that also supports your bones and joints – which we can all use as we get older! Doesn't get much better than that!
Ingredients:
Brownies:
- 2 Scoops Indigo Marine Collagen
- 1/4 cup Cashew Butter
- 1/4 cup Coconut Oil, melted
- 2 tbsp Flax meal mixed with 6 tbsp water
- 1 tsp Vanilla
- 1/2 tsp Sea salt
- 3/4 cup Raw Cacao Powder
- 1/2 cup Almond Flour
- 1/3 cup Maple Syrup
- 5 tbsp Coconut Sugar
Icing:
- Solid part from 1 can full fat coconut milk
- 3/4 cup chocolate chips
- 1/2 tsp mint extract
- All natural sprinkles (optional)
Instructions:
1. Preheat oven to 325F.
2. In a small bowl, combine the ground flax and water. Let sit until thick, about 5 mins.
3. In a large bowl, combine all of the ingredients, besides the cacao and almond flour, whisking until completely smooth and incorporated. Then stir in the flour and cacao until smooth.
4. Spread evenly in the pan and bake for 25-30 minutes, or until set in the center. Remove from the oven and allow to cool. I place mine in the fridge as this makes them even fudgier.
5. To make the icing, combine the coconut cream, chocolate, & mint extract in a heat proof bowl. Heat in 30 second increments, stirring well between each one until smooth & thick. Spread over the brownies. Sprinkle with sprinkles.
6. Place in the freezer to firm up! Enjoy!