Collagen Chocolate Chip Toffee Bars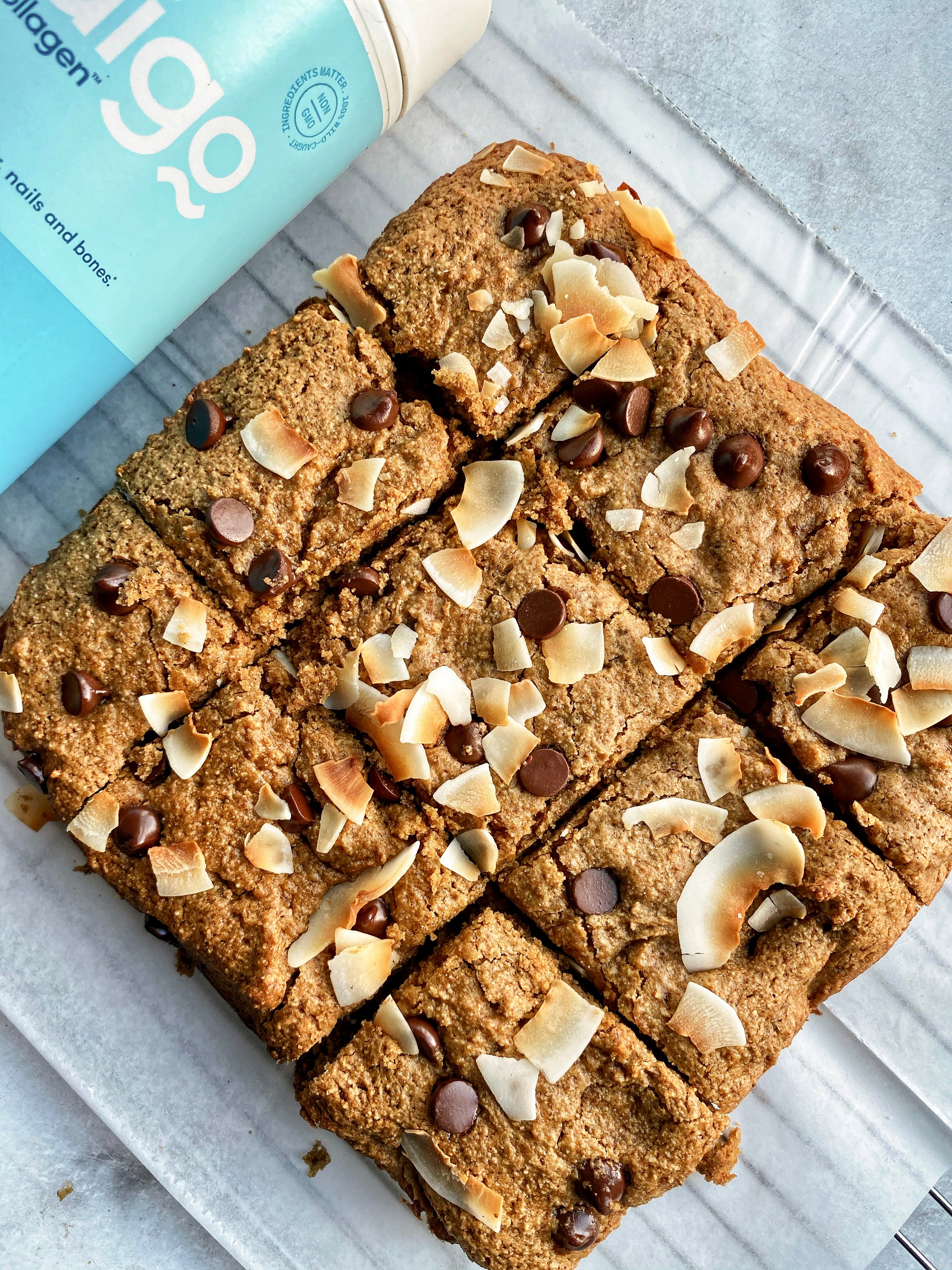 These toffee bars will make your house smell better than any Bath and Body Works Candle – I am serious. They smell heavenly, and taste just as good as well.
The mixture of coconut sugar, chocolate chips, and toasted coconut cannot be beat! They are made with whole-food ingredients, have a little boost of protein from the Indigo Marine Collagen, and are incredibly easy! Enjoy!
Some Benefits of Collagen Include:
- Thicker nails
- Stronger bones
- Fuller hair
- Healthier skin 
Indigo Marine Collagen is set apart by the quality and sustainability of our product. Our collagen is fished in the wild, processed in our own facility, and packaged by our team, allowing us to ensure strict quality controls. 
Ingredients:
- 1 Cup Oat Flour
- 1 cup almond flour
- 2 scoops Indigo Marine Collagen
- ½ tsp baking soda
- 1 tsp vanilla
- ½ cup coconut sugar
- 3 tbsp maple syrup
- 1 tsp cinnamon
- ½ tsp sea salt
- 2 tbsp cashew butter
- 5 tbsp softened coconut oil, ghee, or vegan butter
- 1 egg or 1 flax egg (1 tbsp ground flax mixed with 2.5 tbsp water)
- Toppings: chocolate chips, toasted coconut
Directions:
- Preheat oven to 350F.
- Combine the egg, oil or butter, sugars, and vanilla, and whisk until fluffy and well combined. Then mix in the dry until your dough forms.
- Press into the bottom of a lined or greased 8x8 baking dish. Sprinkle the toppings over top.
- Bake for 18-20 minutes, or until the edges have begun to golden.
- Remove from the oven and let cool completely before cutting into bars.

Enjoy!