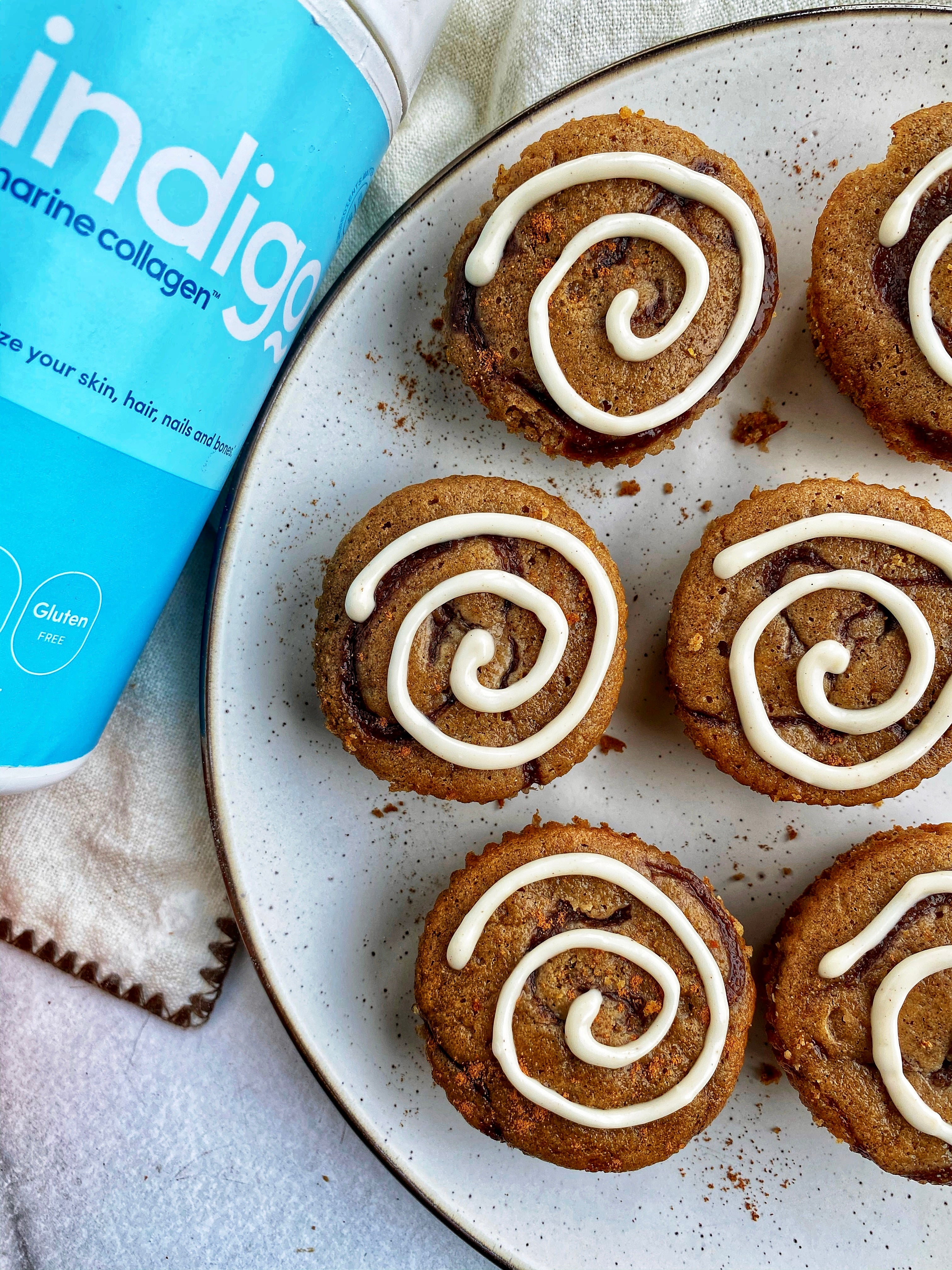 These muffins are not only a great meal prep, snack, or dessert, they are just so darn cute. The muffins don't dry out (which is essential to a good muffin!) and have a little banana swirl baked into the tops, which is the best little touch.
They are topped with a simple cream cheese swirl or you can frost them up and call them a cupcake – they do it all!
Ingredients:
For the Muffins:
- 1 1/4 cup oat flour
- 2 tbsp ground flax
- 2 spotty bananas
- 1/2 cup maple syrup
- 1 cup plant milk
- 6 tbsp almond butter
- 2 tsp vanilla
- 1 tsp baking soda
- 2 tsp baking powder
- 2 tbsp of cinnamon
- Pinch of sea salt

For the swirl:
- 1 spotty ripe bananas
- 1 Tbsp cinnamon
- 1 tsp coconut sugar
- 1 Tbsp vegan butter or ghee

Instructions:

- Preheat your oven to 350F and line a cupcake tin with liners.
In a processor blend all of the wet ingredients, including the banana, until completely smooth. Then add in the remaining ingredients, until batter forms. - -- - Let the batter sit for 5 minutes, then divide it amongst a lined cupcake tin.3. Make the swirl by combining all of the ingredients in the blender until completely smooth. Add the filling to a piping bag, or Ziploc bag, and cut off a tiny piece of the corner. Pipe a swirl over the top of each muffin.
- Bake for 24-26 minutes or until a toothpick inserted comes out clean. They should be slightly golden. Let cool.
- For the optional frosting, combine 1 cup cream cheese with ¼ cup maple syrup (taste and adjust as needed). Pie or frost as desired. Enjoy!