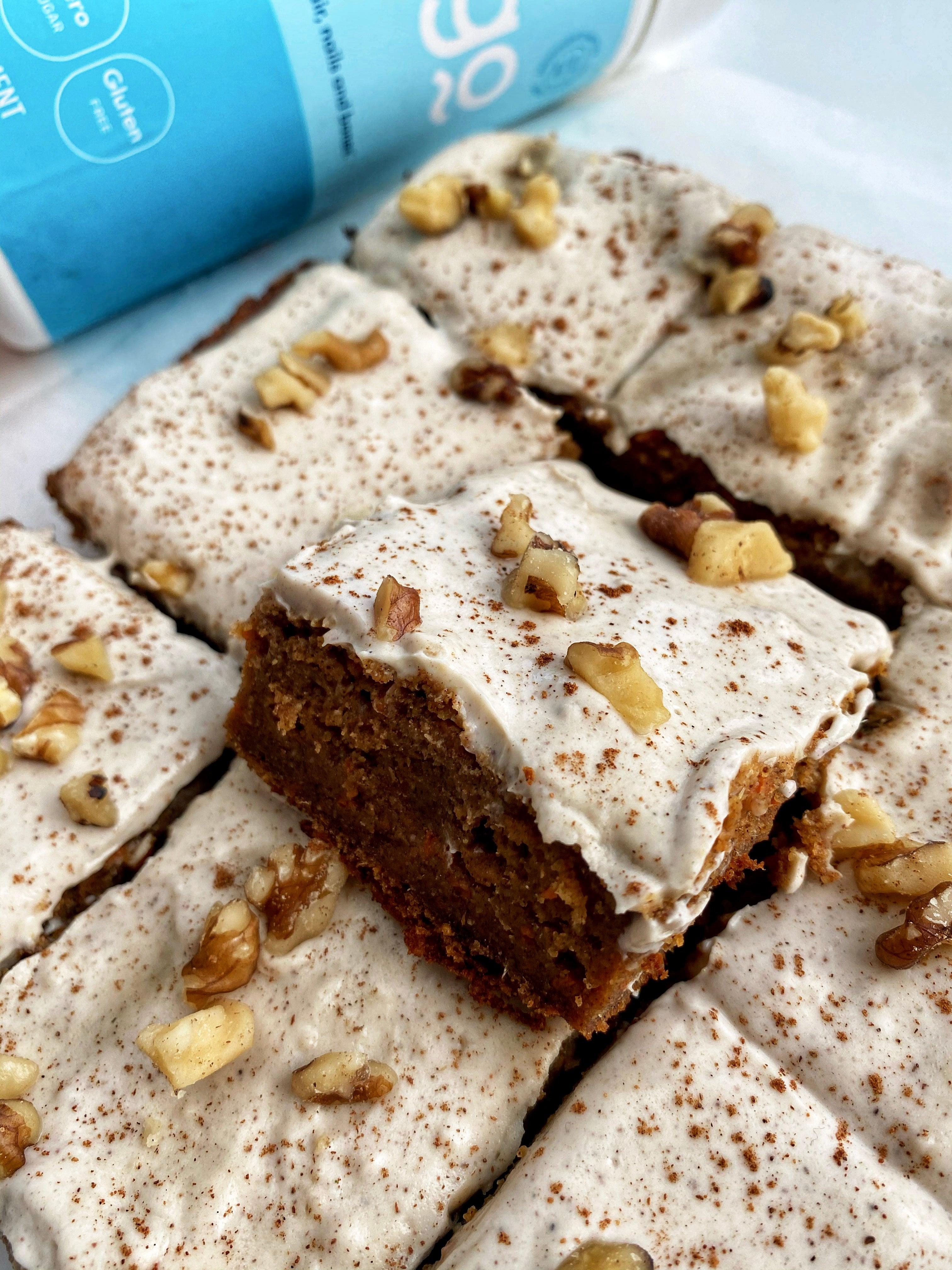 Carrot cake, cookies, and frosting - All of the best things in one! These cookie bars are moist, full of flavor, and the frosting makes them even more irresistible. They come together quickly and keep great in the fridge! I hope you'll be making these on repeat as much as we do!

Some Benefits of Collagen Include:
- Thicker nails
- Stronger bones
- Fuller hair
- Healthier skin 
Indigo Marine Collagen is set apart by the quality and sustainability of our product. Our collagen is fished in the wild, processed in our own facility, and packaged by our team, allowing us to ensure strict quality controls. 
Ingredients:
- 1 cup Cashew Butter
- 2 tbsp ground flax mixed with 5 tbsp water
- ¼ cup coconut sugar
- ¼ cup maple syrup
- 1 ¼ tsp vanilla
- 1 tsp baking powder
- ½ tsp baking soda
- 3 tbsp coconut flour
- 2 tbsp Indigo Marine Collagen
- 2 tsp cinnamon, ½ tsp ginger, ¼ tsp nutmeg, pinch of sea salt
- 1/3 cup chopped walnuts
- 1 cup finely grated carrots
- 1/3 cup chopped chocolate or chocolate chips
Frosting:
- ½ cup vegan cream cheese or regular
- 3 tbsp maple syrup
- ½ tsp cinnamon
Instructions:
- Preheat oven to 350F. Mix the flax and water together and let sit to thicken, about 5 minutes.
- Combine all the ingredients in a large bowl, or food processor, until dough forms. Then fold in the walnuts, chocolate, and carrots.
- Spread in a lined 8x8 baking dish and bake for 30-35 minutes. Let cool.
- Mix together the frosting ingredients until smooth, frost the bars, and store in the fridge!