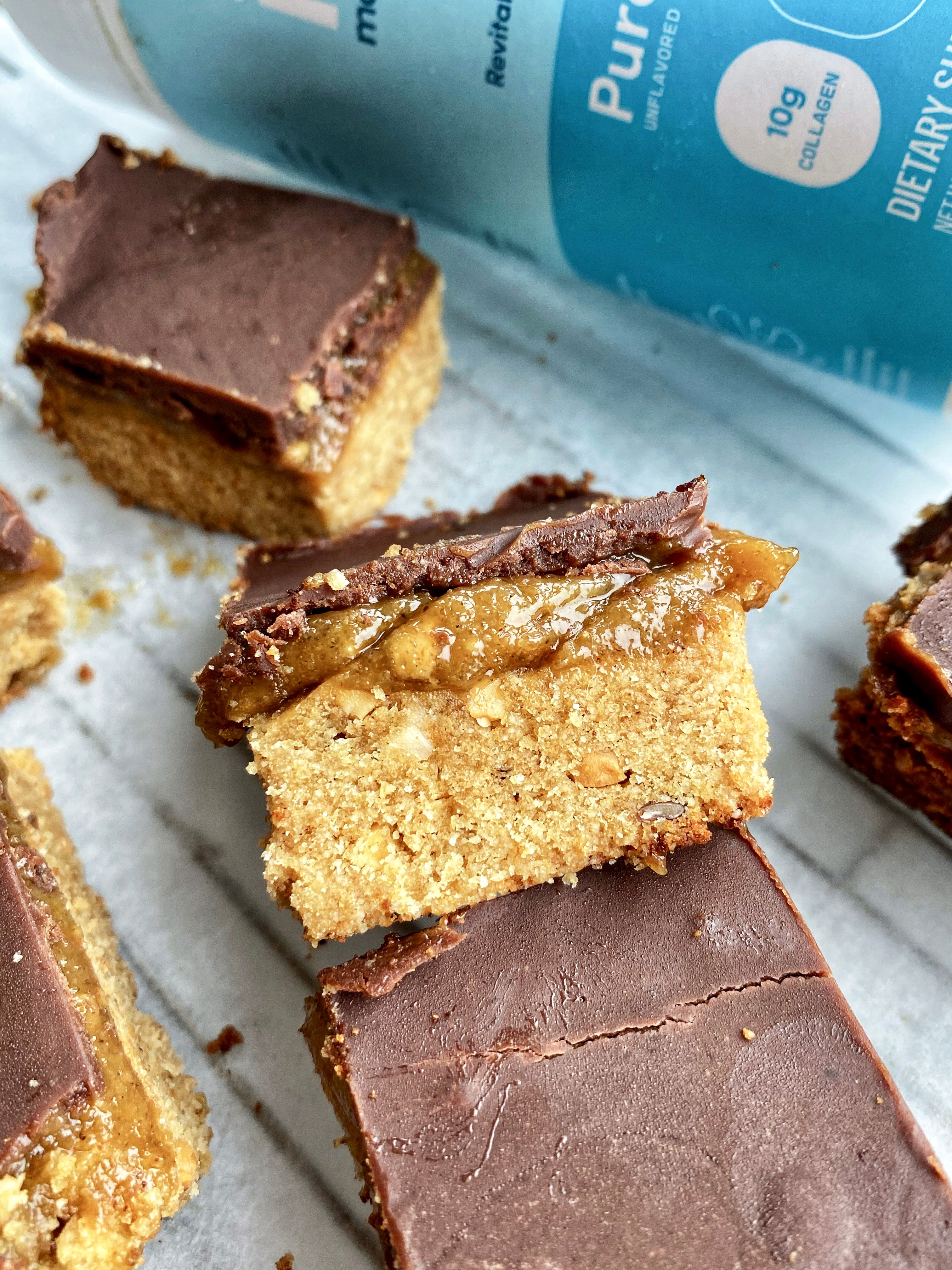 These cookie bars are a party for your mouth! Three decadent layers that all bring a little pizazz to the recipe! The bottom layer is a baked chocolate chip, chai-spiced cookie, followed up by a cashew butter caramel sauce, and topped with a chocolate shell.
Not a chai fan? You can totally just leave out the spices, just use the cinnamon, etc. Whatever you desire – these are so versatile (making them that much better!)
Some Benefits of Collagen Include:
- Thicker nails
- Stronger bones
- Fuller hair
- Healthier skin 
Indigo Marine Collagen is set apart by the quality and sustainability of our product. Our collagen is fished in the wild, processed in our own facility, and packaged by our team, allowing us to ensure strict quality controls. 
Ingredients:
Cookie base:
- 1 cup almond flour
- ¼ cup tapioca flour
- 1 tsp baking powder
- 1 tsp vanilla
- 1 1/2 tsp cinnamon, ½ tsp cardamom, ½ tsp ginger, ¼ tsp nutmeg
- ½ cup melted coconut oil
- ¼ cup coconut sugar
- 3 tbsp maple syrup
- 2 scoops Indigo Marine Collagen
Caramel filling:
- ½ cup cashew or almond butter
- ¼ cup maple syrup
- ½ tsp cinnamon
- 2 tbsp melted coconut oil
Chocolate topping:
- 1 1/3 cup chocolate chips
- 1-2 tbsp coconut oil (if need to thin the chocolate)
Instructions:
- Preheat oven to 350F.
- Combine all the cookie base ingredients and spread evenly in a lined loaf pan.
- Bake for 12-15 minutes, or until golden. Let cool.
- Combine all of the caramel ingredients until smooth. Spread over the cookie base.
- Melt the chocolate until smooth. Pour evenly over the caramel layer.
- Place in the freezer until set. Cut into bars and enjoy!